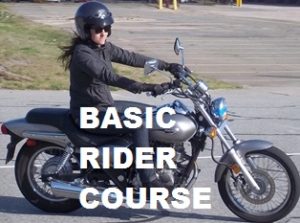 See Class Schedule and REGISTER
Tuition: $329 on one of our training motorcycles or $364 on one of our automatic motorcycles (Due to the limited availability of automatic motorcycles in our fleet, you must contact us in advance letting us know that you would like to have an automatic motorcycle made available to you.  We will send a $35 electronic invoice to your email for the additional cost)
Designed for the student with little or no riding experience.
The only prerequisite is that you can ride a pedal bicycle and that you have a driver's license or permit.
Motorcycles (250cc or less) are provided at no additional charge.
If you do not own a helmet, you can borrow one from us.
15 hour course (5 hours classroom, 10 hours riding).
Pass the course, get your motorcycle license without the need for an RMV road test. (If you would like to obtain your motorcycle license as a result of passing the Basic Rider Course, click on the "License Steps" link or see the FAQ page for more information.)
Receive 10% limited discount on motorcycle insurance for life.
Get Motorcycle Manufacturers' Incentives!  Many motorcycle manufacturers offer tuition reimbursement or other incentives for students who successfully complete the Basic Rider Course.  Check with you local dealer for more information on incentive programs.
We offer Honda Rebel 250s, Honda Nighthawk 250s, Suzuki DR200SE, Suzuki GZ250s, and Kawasaki Eliminator 125s:
Classroom covers:
Challenges of Motorcycling
Motorcycle controls
Rider and motorcycle preparation
Basic riding skills
Street strategies
Special riding situations
Advanced turning and braking skills
Dangers of riding impaired
Riding sessions cover:
Clutch control
Straight-line riding
Shifting
Braking
Limited Space Maneuvering
Cornering
Avoiding Hazards