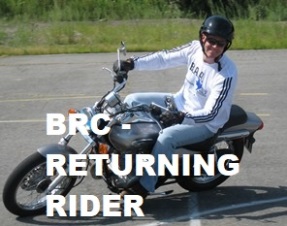 See Class Schedule and REGISTER
GET YOUR LICENSE when you pass this course. Successful completion of this course will waive the need for a RMV Motorcycle Road Test. (If you do not already have a motorcycle permit, you will need to one from the RMV within 90 days of completing the course. For more information, click on the "License Steps" link or see the FAQ page.)
Tuition: $299
Combines elements of the Basic Rider Course and the BRC2 / Experienced Rider Course.
Designed for riders who already possess basic skills but who have not been riding for several years.
The pre-requisites for the Returning Rider Course include your ability to: coordinate clutch lever and throttle use to control the motorcycle smoothly; upshift and downshift smoothly; stop the motorcycle properly at a designated point; negotiate typical roadway turns and curves.
This course is not intended for a novice rider who is learning to ride for the first time.
Motorcycles (250cc or less) are provided at no additional charge.
If you do not own a helmet, you can borrow one from us.
This 1-Day course consists of: a 2-hour eCourse; 5 hours of on-motorcycle instruction (including a skill evaluation); and 1 hour of motorcycle safety activities/discussions.
A course completion card will provide a limited 10% discount on your Massachusetts motorcycle insurance.
Get Motorcycle Manufacturers' Incentives!  Many motorcycle manufacturers offer tuition reimbursement or other incentives for students who successfully complete the course.  Check with your local dealer for more information on incentive programs.