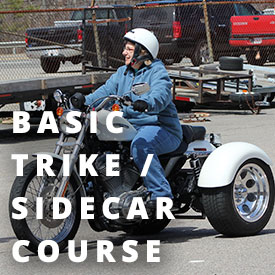 See Class Schedule and REGISTER
LIMITED TIME OFFER!!! Can-AM is paying a significant portion of the tuition, bringing your cost down to just $75!!!
Regular Tuition: $399.  You can use one of our Can-Am Spyder training trikes or you can choose to bring your own
2-Day Course is completed in approximately 16 hours.
This course is designed to provide the beginning three-wheel rider with knowledge, confidence, and driving skills practiced in a safe controlled environment.
Pass the course, get your 3-Wheel motorcycle license without the need for an RMV road test.  (If you would like to obtain your motorcycle license as a result of passing the Basic Spyder / Sidecar / Trike Course, you must provide a photocopy of your valid Massachusetts motorcycle permit.  See the FAQ page for more information.)
The only prerequisite is that you have a driver's license or permit.
If you do not own a helmet, you can borrow one from us.
Receive 10% limited discount on motorcycle insurance for life.
You will use one of our Can-Am Spyders or you can choose to bring your own 3-Wheel rig
Topics covered:
Risk Management Strategies
Operation of Controls
Direct Steering / Weaving
Cornering and Body Positioning
Braking (Straight Line and in Corners)
Shifting Gears
Controlling Skids
Stopping Quickly without Skidding
Evasive maneuvers: Swerving and Stopping Quickly in Curves