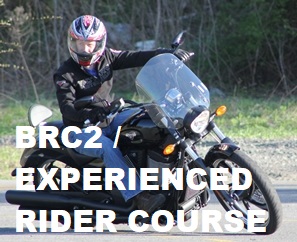 See Class Schedule and REGISTER
Tuition: $199.
Renamed from the Experienced Rider Course (ERC) to Basic Rider Course 2 (BRC2) by the Motorcycle Safety Foundation.
For riders who are currently riding and already have basic skills.
Similar to the BRC except speeds are higher and you will be on your own motorcycle.
An excellent refresher course to practice and renew riding skills.
There is a classroom component that consists of discussing behavioral safety concepts based on past riding experiences and current knowledge.
Passing the Knowledge Test and the Skill Evaluation will waive the need for a RMV Motorcycle Road Test.  (For more information, click on the "License Steps" link or see the FAQ page.)
A course completion card will provide a limited 10% discount on your Massachusetts motorcycle insurance.
You must bring a valid motorcycle permit/license endorsement, and an insured/registered/inspected street-legal motorcycle.
Your motorcycle must also pass a safety inspection before being allowed to ride on the range.  Please respect our neighbors' right to peace and quiet.  Only motorcycles equipped with legal mufflers can be used for the ERC.  (No straight pipes, please.  Street legal aftermarket exhausts are OK).
8 hour course including 5 hours of riding and 3 hours in classroom completed in 1 day plus a 2-hour online pre-course component.
Get Motorcycle Manufacturers' Incentives!  Many motorcycle manufacturers offer tuition reimbursement or other incentives for students who successfully complete the Experienced Rider Course.  Check with you local dealer for more information on incentive programs.
Techniques Covered:
Rider and Motorcycle Preparation
Review of Basic Skills
Street Riding Strategies
Traction Management
Cornering, Braking, and Swerving Techniques
Danger of Impaired Riding